Dec. 02, 2021 • Interesting Iron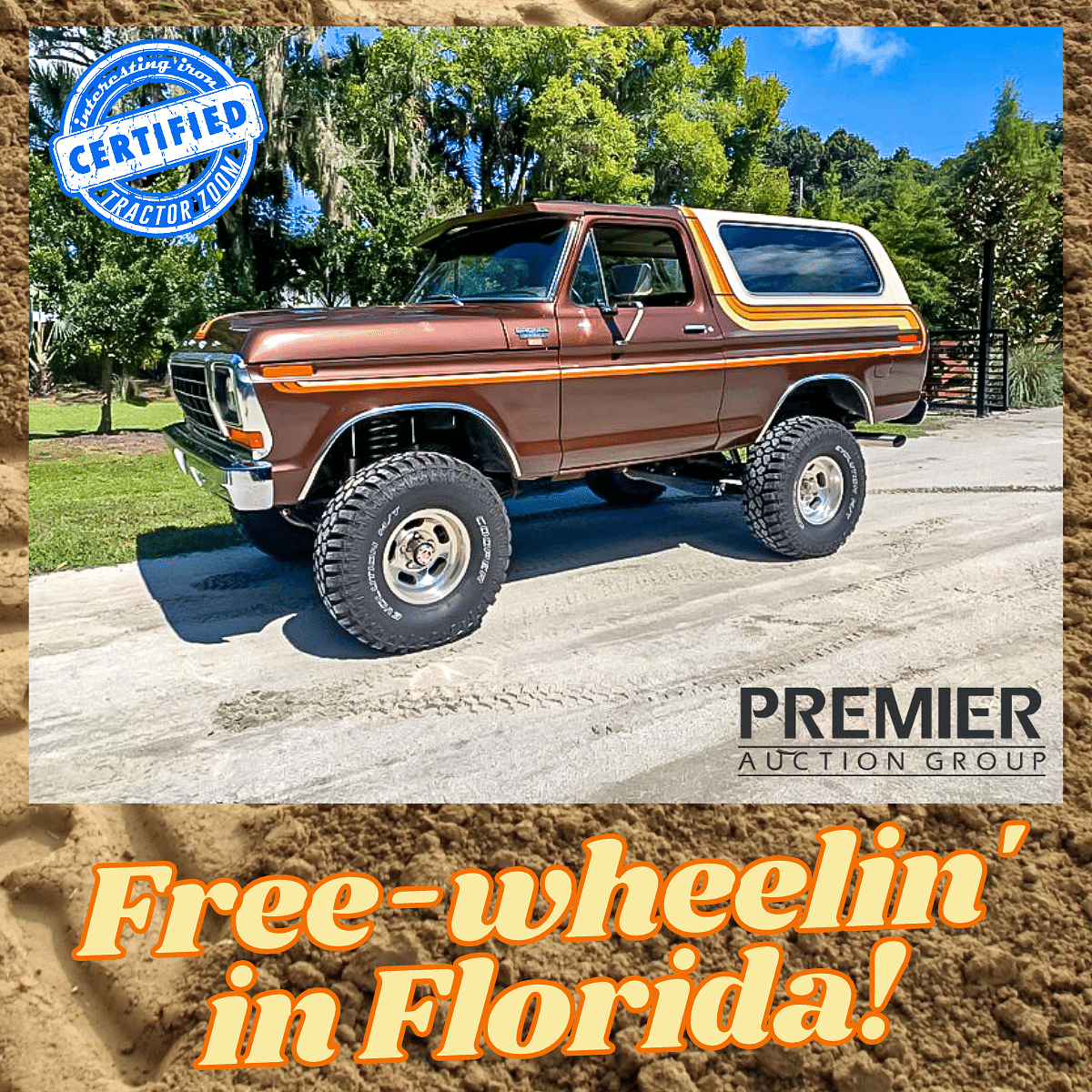 Ah, the 1978 Ford Bronco. What a beast! ????
1978 was a good year, y'know? Cool stuff happened that year. Superman jumped off the comic book pages to the big screen, Garfield became the OG Grumpycat without even knowing it, and Van Halen taught us how to play air guitar properly! (Don't act like you don't know the solo to Eruption…)
It was also the year that Ford took the Bronco from the barnyard to the backwoods (or the beach). We'll get into why in a minute…
Suffice it to say, though…if somebody offered me any vehicle from the year I was born, this is what I would pick. 
Before I forget, let's get the details out of the way. The links below will take you the Tractor Zoom listing where you can get all the details and see more photos of this beautiful Bronco.
1978 Ford Bronco Ranger XLT Freewheeling Edition
Auction Date: December 3, 2021 – 10AM Eastern
Location: Punta Gorda, FL
Auctioneer: Premier Auto Group
See the rest of the trucks on the sale (there's some REALLY cool stuff on this auction)!
Before we take a look at the sweet Bronco that's on my Christmas list, though, let's look at the first-gen Bronco.
We want a vehicle that'll do everything…
Apparently the F-series trucks were too big for some people in the mid-60s. They wanted something that would compete with a Jeep CJ or IH's Scout. And oddly enough, farmers were actually part of that "some people" group. They wanted a smaller, go-anywhere (i.e., through the gate into the pasture) kind of vehicle. A pickup didn't cut it for that, according to them. Personally, I think those farmers were really looking for a side by side. (You don't think it was an accident that Polaris called theirs the Ranger, do you? ???? )
Anyway, Ford put some stock in the project and put some pretty talented minds on it, too. Donald Frey and Lee Iacocca – the same fellas who designed the Mustang – were basically told, "Go build us something that'll beat a CJ. We're all counting on you."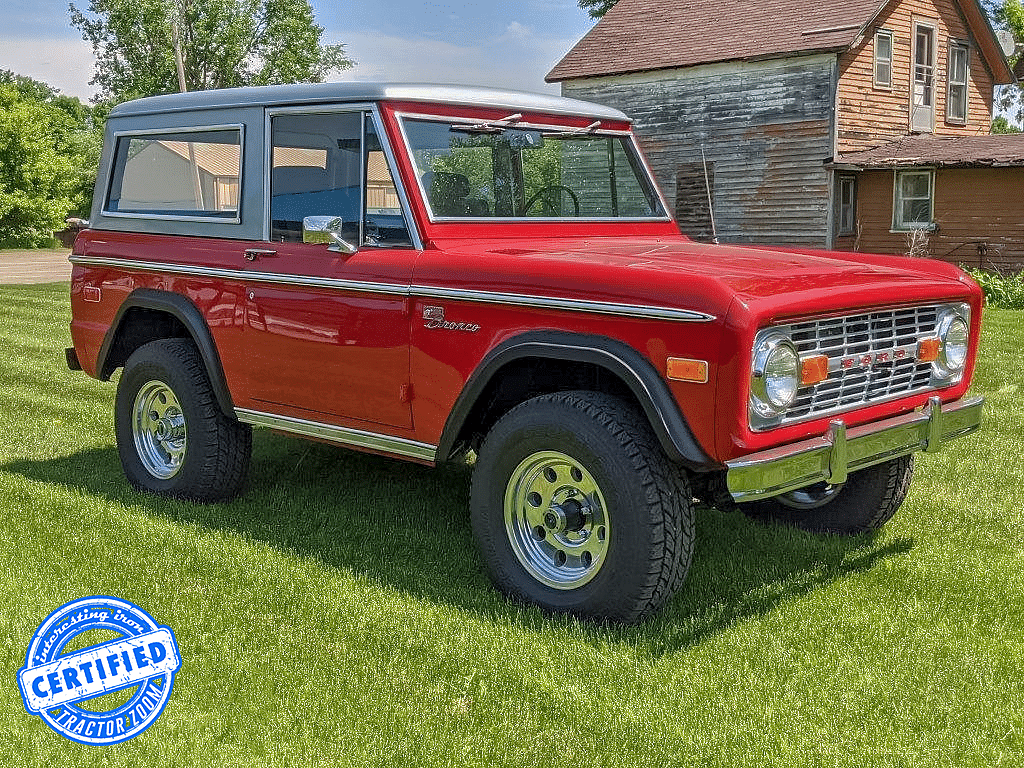 And that's what they did. The first-gen Broncos were pretty neat, and fairly capable offroad. They were light on creature comforts and horsepower, but that all kind of fit the image that Ford was trying to project – that the Bronco was a light and rugged machine. See, Ford saw their primary market as being farmers and ranchers who would use the little trucklet as a utility vehicle.

Successful…ish.
It didn't take long, though, before the spartan nature of the first-gen Bronco ultimately backfired on Ford. They sold well…but not to just to the farmer/rancher crowd. Almost as soon as they hit the market, customers started buying them for fun second cars. Moms wanted to cart the kiddos around in them during the summer, and they wanted to be more comfortable. At the end of the day, it was hard to do that in a shoebox, y'know?
Ford did add more creature comforts here and there, but ultimately the voice of the customer grew louder. Furthermore, since these little summer fun-mobiles were spendy to build (they didn't share parts with much of anything else), they started looking at a re-design in the early 70s.
Generation II: Luxury and power…and so much room for activities!
In the meantime, Chevy hadn't been sitting around watching paint dry. They learned from Ford's mis-read of the market, and they responded with a bigger, much-cheaper-to-build option, the Blazer. It was bigger but not too big, and had some creature comforts, too. It was also based heavily on the truck lineup, so it shared more parts. Good thinking on their part!
Ford's re-design went the same way; they based it off of the F-series pickups, and gave it more of what they thought the people wanted. More space, more power, and more style. And, had it not been for the gas crisis of the early 70s, the Generation II Broncos would've been released in 1974. But, with just two engine options – both thirsty "big small blocks" – and long lines at the pump, Ford opted to hold the release until 1978.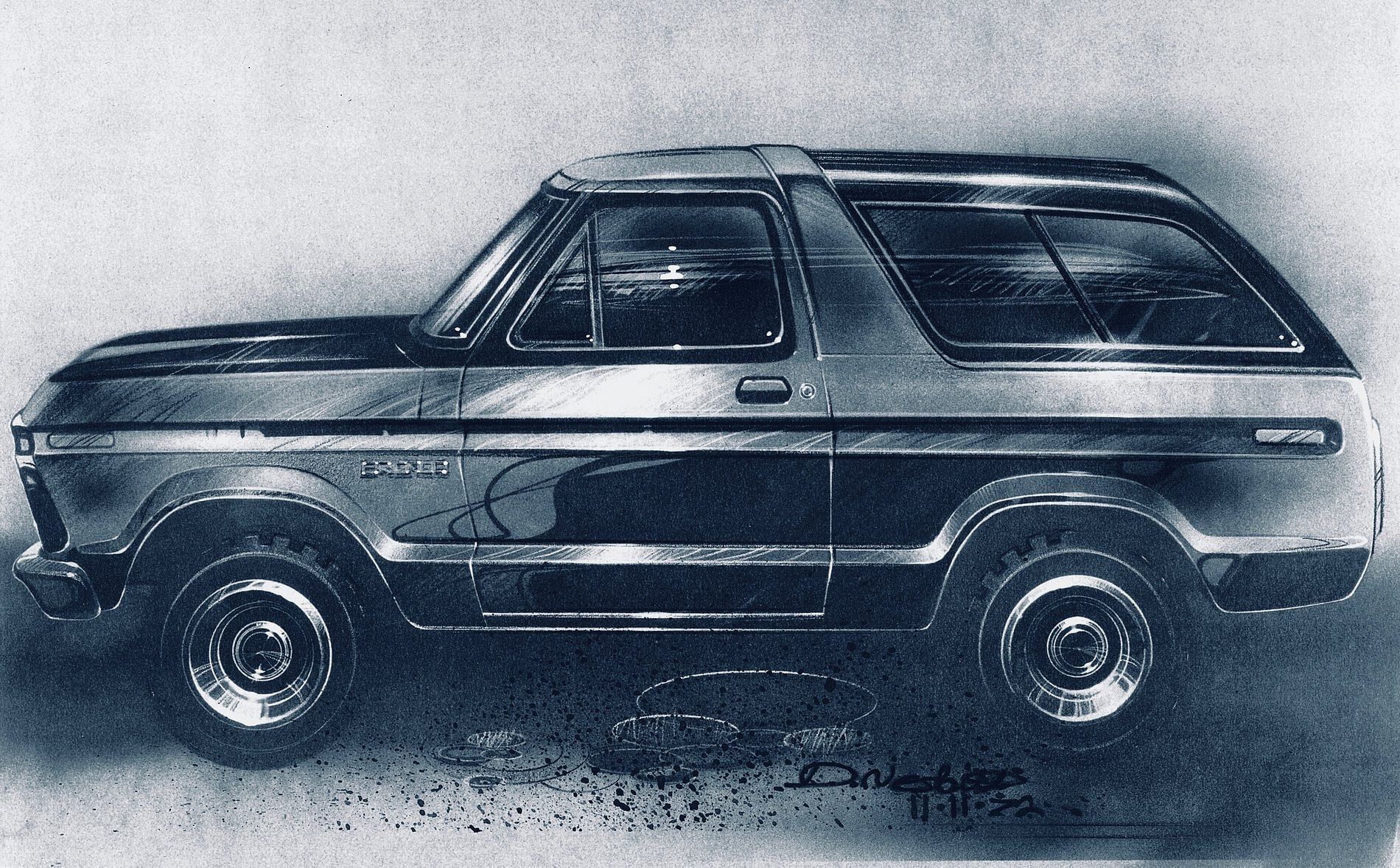 While they were designing the Generation II, Ford was also digging into the data (something we at Tractor Zoom can appreciate) on who their customer actually was. They determined that no longer could they hang a marketing strategy on the farmer/ranchers. Their target demographic eventually ended up being the under-30 crowd. People who marched to the beat of their own drummer; they might work in a town or the city, but they'd really rather be outdoors. (Boy, that sure sounds like a pretty current marketing strategy for the new Bronco…weird how that works…)
Numbers don't lie…
Depending on who you ask, you'll hear two different stories about the 1978 Ford Bronco. Some will tell you that the reception was just so-so, and some will tell you that it was huge.
The numbers don't lie. Even though the Generation II truck was only around for two years, they were big years. In 1978 alone, Ford built nearly 78,000 Broncos. That's over 5X as many as Broncos built in 1977.
Total production of the first-gen trucks was just under 226K over 11 years; total production of the Generation II was just under 182K…in 2 years.
Like I said, the numbers don't lie. The Generation II Bronco was a massive hit.
And that, my friends, brings us to the one I've been drooling over for the past day or two.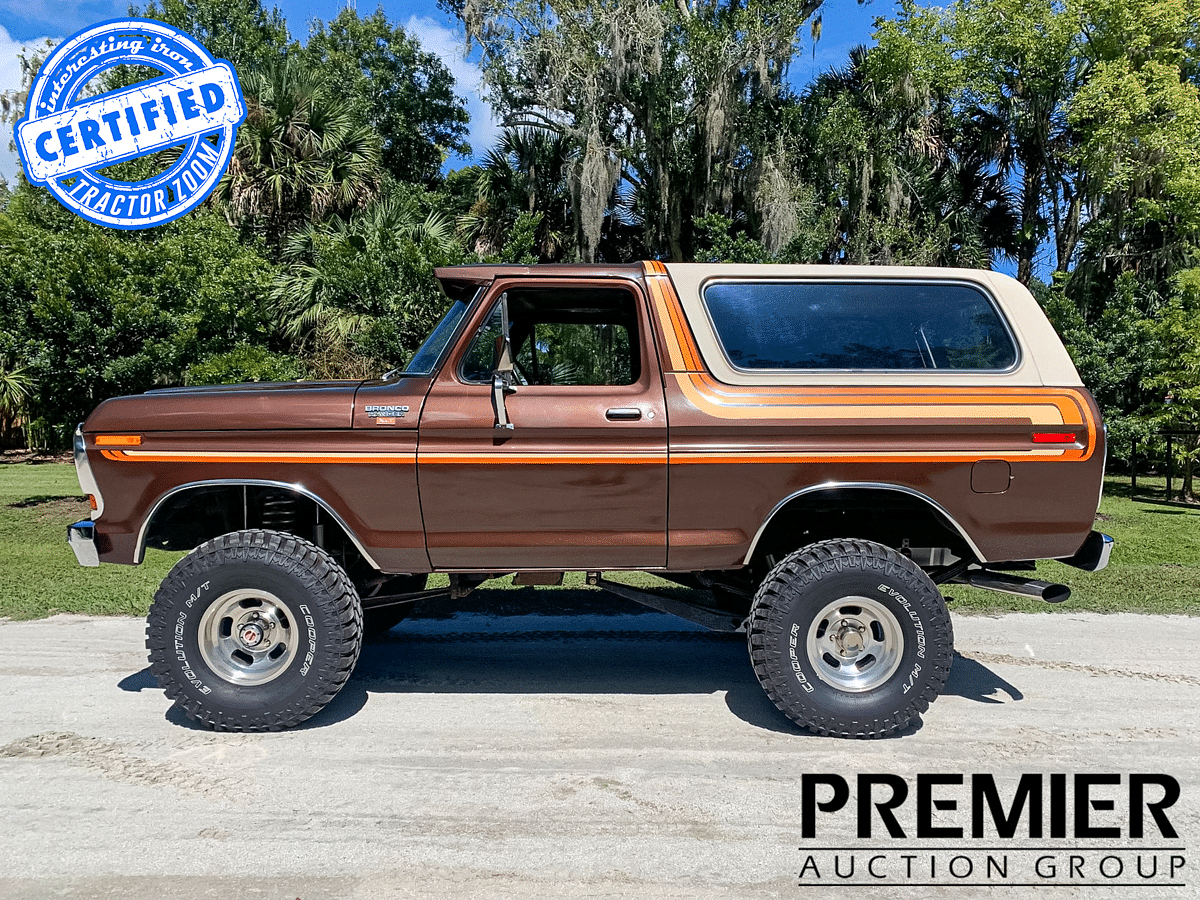 Stepping away from the fact that it's a beautiful truck for a minute, let's talk about what makes it interesting.
It's a Freewheeling Edition that was spec'd just right. The Freewheeling package wasn't anything super-crazy; it was mainly just a styling thing. Stripes, all black mirrors, black bumpers, and a bigger wheel/tire combo. It was available as an option on the Custom and Ranger XLT trim levels (think mid/high-spec vehicles). Depending on which color you chose, Ford would apply stripes (there were several options within the stripes themselves) in one of two color sets – tan/orange/cream like you see here, or blue/white/green. The tan/orange/cream sets are far more common than the blue/white/green.
At any rate, this particular Bronco is one of only 1432 built in 1978 with this options and color package. If you crunch the numbers, that works out to about 1 of every 55 Broncos built in 1978. Not super-common!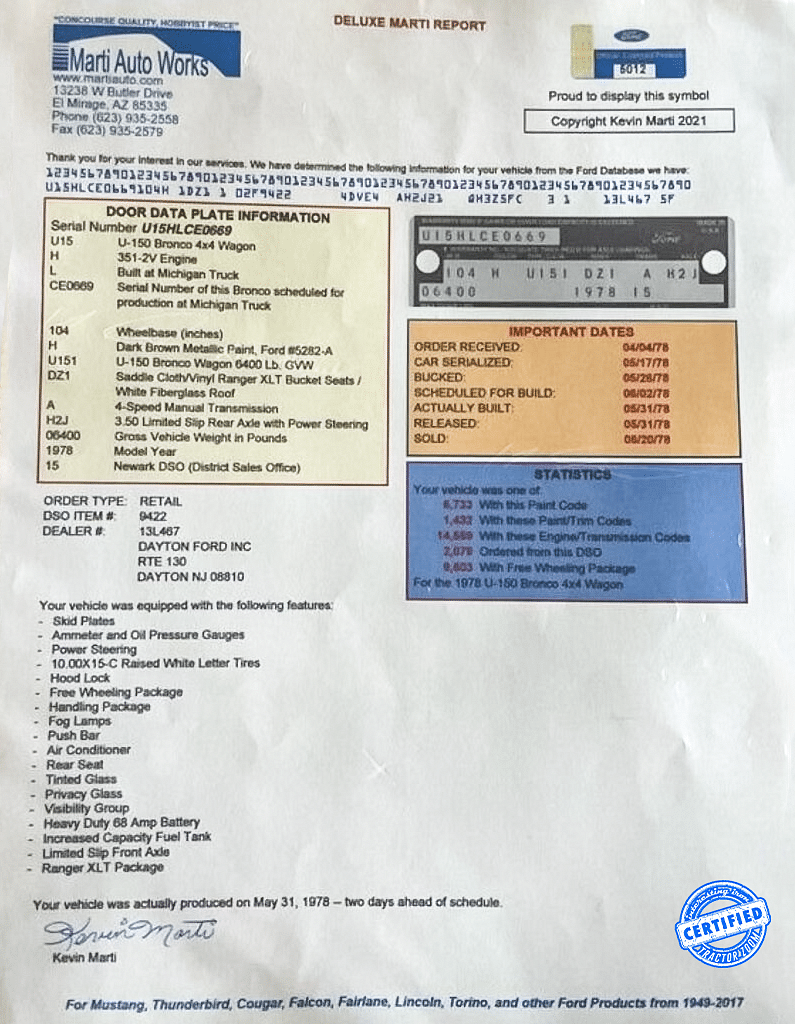 What I know…
Honestly, I don't know a lot about this truck, other than the fact that it's been restored/resto-modded. The seller provided lots of photos of it on the lift, but sadly, that's about it. The lift photos show that both body and frame have been blasted and recoated. It's got a 6″ suspension lift, too, and it tucks 35s quite nicely. No interior photos, unfortunately.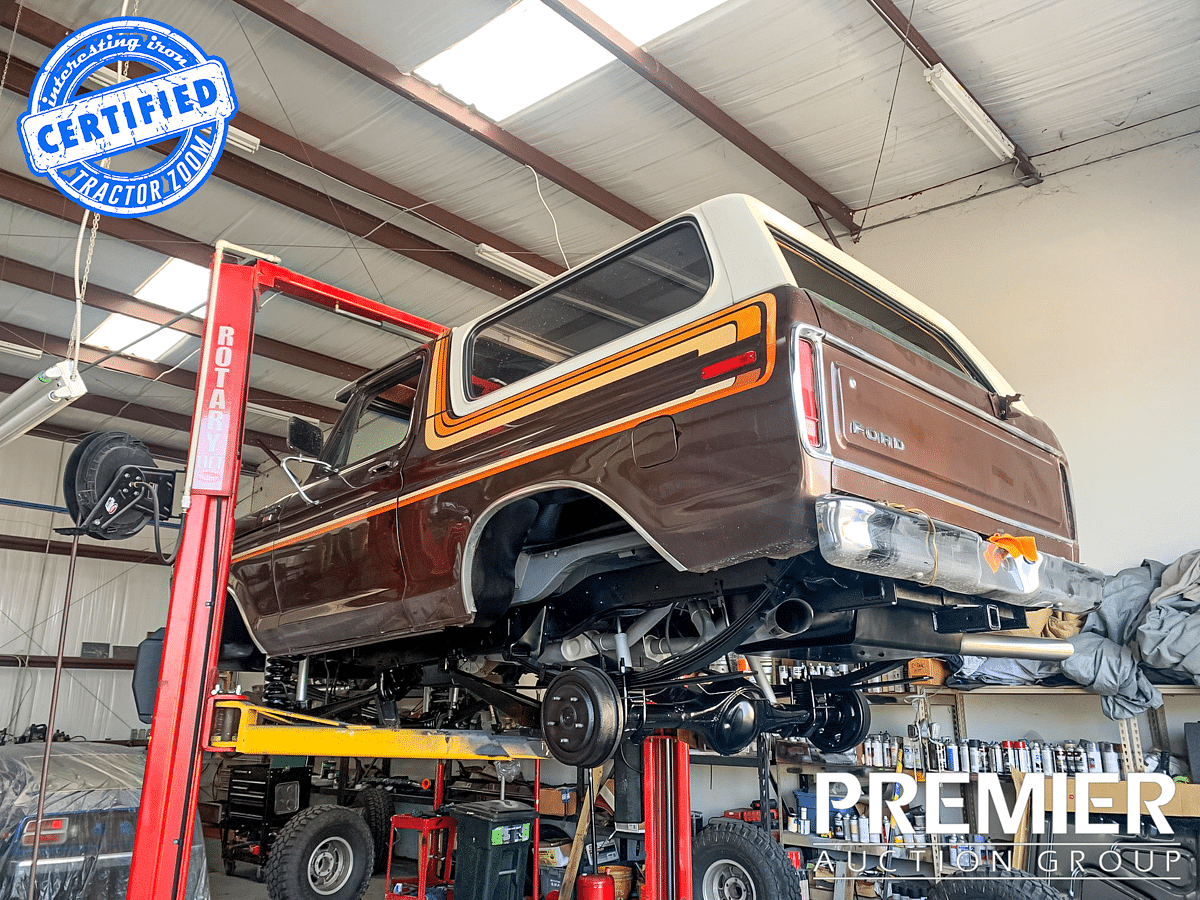 The seller lists that the stripes are original, but that paint looks way too good to be original paint. My guess is that it's been repainted and those are reproduction stripes. Still, this was an original Freewheeling package truck, so the truck did originally have those stripes. The seller also calls the truck a survivor, which we know it's not (no black bumpers, different wheels/tires, yadda yadda).
This 1978 Ford Bronco came from the factory with a 351M (the highest-performing variant of the 351 V8) making a whopping 156 horsepower, but no self-respecting custom builder would leave that motor stock like that. Basic bolt-ons, exhaust, and a tuneup would probably get that motor to 350 horse without working too hard, so I would suspect that that's been done as well.
What's a 1978 Ford Bronco worth in 2021?
A whole lot. I'll bet you need $40K+ to even think about playing in this game.
The market for Broncos, Blazers, and Ram Chargers is absolutely white hot right now, and it's been that way ever since the pandemic hit. Five years ago you couldn't hardly give one of these things away unless it was in perfect shape. Once the pandemic hit, and upwardly mobile young professionals looking for toys to play with outside drove the price through the roof. Furthermore, it shows no signs of stopping. They've been selling at Mecum auctions all year long for $40-70K, depending on how crazy the restoration is!
Pro Tip: If you have one of these trucks sitting around in the barn and it's relatively clean, air up the tires, put some gas in it, and take it for a drive on a Friday or Saturday night. I'll be shocked if somebody doesn't holler at you, "Hey, whaddya want for it?"
When they ask…be prepared to shoot 'em a number. A high one.
Why?
When I was a freshman in high school back in the day, there was a senior named Jake who had a bright red, lifted '78 with a 460 in it. Big dude. Varsity offensive line. Man, I thought that guy was the coolest cat on the planet.
These were cool when I was in high school, and now that a certain subset of buyers my age have some disposable cash, they're looking for what they thought was cool when they were in school.
It's the nostalgia, man. I totally get it.
Plus, this one just looks "right" y'know? Dark Brown Metallic with the tan/orange/cream stripes on tan interior? It takes me right back to when I was growing up. Somebody is going to think so too, and they're willing to pay dearly for it!
It won't be me, unfortunately, but it'll still be fun to watch and see where it ends up!
Here's the details one more time.
1978 Ford Bronco Ranger XLT Freewheeling Edition
Auction Date: December 3, 2021 – 10AM Eastern
Location: Punta Gorda, FL
Auctioneer: Premier Auto Group
See the rest of the trucks on the sale (there's some REALLY cool stuff on this auction)!